Speaking better English through Trying
 "I want to speak better English."          
– Yu Darvish, in Mesa, Arizona, USA (February 2019)
his wa

s one of the main points a Japanese baseball player told American news reporters last month in Arizona (southwestern part of America). For the first time in seven years, Yu Darvish came up to baseball reporters—alone—without any help from a Japanese interpreter and took questions all in English. (Pretty scary when you see all of the cameras filming you, I'm sure!) Happy March, everyone! Yes, baseball season is still a few weeks away. But since this news story popped up last week, I'd like to share it with you.
For my non-baseball fan readers, Yu Darvish is a Japanese baseball player who pitched for the Nippon Ham Fighters from 2004 until 2011. The next year, he came to play in America, signing a contract with (my home team) the Texas Rangers.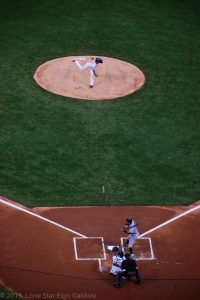 It was very exciting for us fans in Texas to get such a talented and famous player from Japan. I was so excited, in fact, that I went to his American debut game that same year. (See the picture I took from above home plate. His third batter was Ichiro Suzuki.)
I have often wondered how a Japanese player does well in American baseball.
Does he speak English?
If he doesn't, how does he survive working with people who don't speak Japanese?
How does he succeed with uncomfortable language struggles while also focusing on his work?
I remember from the very beginning when Darvish started in Texas, he said he did not want to have interpreters with him—not in the dugout, not on the field, etc… But as one manager for the Texas Rangers said, "we wanted to give him an interpreter who could deliver sometimes difficult messages but not be a buffer between him and his teammates." So, like most (if not all) Japanese baseball players in the US before him, he was given an interpreter to help him. Still, as an athlete that practices many of the same techniques every day, during his first year after practices, he would spend time during spring training every day to review English vocabulary he heard during the day with his Japanese interpreter. It's been seven years since he started in American baseball. He now plays for the Chicago Cubs.
Last month during MLB (Major League Baseball) spring training, Darvish approached the reporters—with no interpreter—and began listening to the American reporters' questions in English. "I want to speak better English. I understand what you guys are asking, but when I get nervous—like now—my English gets stuck a little. … The most important thing is you guys understand what I'm saying because pitching can be hard to explain sometimes. I'll have to take my time [explaining]."
No doubt, if you've tried to speak a foreign language—the first time speaking on your own can be very, very hard (and maybe very embarrassing!). When I started studying Japanese, I hesitated all of the time wondering if what I was saying sounded correct. I thought to myself:
Will they understand what I'm trying to say?
Will it be wrong?
Will they laugh at me?
Will I get embarrassed?
Will I fail to communicate what I want to say?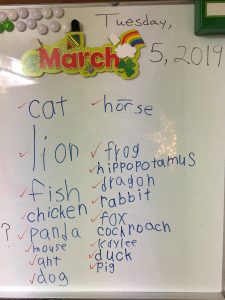 While living with a host family, I often found myself in my bedroom struggling to memorize and practice pronouncing basic greetings (like Tadaima! and making basic requests like Mizu kudasai.) to my host mother.
For Darvish, he put himself in a situation where he was forced to perform. There was no time to think of questions like the ones I agonized over (above). He had to use what English he knew and do the best he could with that to listen to and answer questions—all in English.
So maybe that uncomfortable feeling is necessary—for us adults, at least. Getting started practicing the language early in life makes these kinds of transitions easier. Children seem to lack this consciousness of what they look and sound like. They learn a lot quicker, probably at least in part because of that. They are probably not always aware of when and where the uncomfortable, embarrassing situations are yet. So they often just find themselves stuck in them, but grow from those experiences once they are forced to find a way to communicate. Children can learn how to speak better both through positive experiences and mistakes that leave them with a bad feeling.
Yet for us adults, as we grow more aware of ourselves and our environment we also learn where the negative, uncomfortable situations are and often do our best to avoid them. This is probably where we hurt our ability to get better at a foreign language the most. Even after retiring from baseball, Hideki Matsui, who played for the New York Yankees baseball team in the 2000s, still lives in New York. But he still hasn't mastered English, according to his interpreter. "There's only so much you can [do] even if you take the time to learn." You can be private, but you will also sacrifice your ability to become better at English if you "really want to learn but…also want to keep…privacy."(SITE)
"He doesn't want to be on his own island."
-Joel Wolfe, Yu Darvish's agent
"[Darvish] wants other players or staff members to approach him. He wants to be like the other guys and fit in. He doesn't want to be on his own island," Darvish's baseball agent once said. So that has meant trying to challenge himself more and more. "[My] next step was a press conference, so little by little I've been more comfortable," Darvish said.
So what does all this mean? Is walking bravely up to a group of English-only news reporters the only way to speak better English? Not necessarily, of course. We aren't all professional baseball players with English-only reporters following us, are we? But I think it's getting easier to meet people from other countries in Japan. More people around the world talk about Japan and are interested in visiting here. That means there will be more times when we will see people who may not know any Japanese, but may speak English.
I don't mean to say: when you see someone, run up to them and say "Do you speak English?" But I have seen more opportunities myself, whether it's a tourist who looks lost or someone ordering from a menu but may have a question that can't be answered just by looking at the menu and pointing. In Tokyo, I will sometimes stop to ask a tourist that looks lost if they need help finding something. For me, it helps to think about what situation that person (or group) might be in and wonder what help they might need (if any). When I can think of something simple to say (like "Do you need any help?"), I will walk up and just listen to what they have to say. The conversation starts there. In those situations, I never even think about what I can or cannot say.
So I think for us adults, that is a major path to speaking better English: trying to make yourself comfortable in more and more challenging situations when the opportunity comes. No one is good at a foreign language in the beginning. Learning it takes a lot of time, effort and consistency—just like a pitcher practicing baseball.
Yee-ha!

If you've read this far in my post, thank you. To help you out more, try brainstorming some situations where you could use your English. Is there a person in front of a station who looks lost? Is there someone ordering something who looks like they're confused in a store? Or in a restaurant?
See a video clip from Yu Darvish's English-only press conference here: http://www.espn.com/mlb/story/_/id/26077749/why-doing-interviews-english-part-yu-darvish-comeback-plan
For a similar story—including an interesting story about Darvish's second Japanese interpreter, go here: http://grantland.com/features/yu-darvish-interpreter-kenji-nimura-texas-rangers-japan-mlb/#fn-6